In April, the inaugural Homegrown at Northgate event was a stunning success with tasty food trucks, exciting live music, colorful photo opportunities, and a wide array of vendors selling the fruits of their labors along College Main and the Patricia Street Promenade.
The event was so remarkable that vendors and attendees alike were inspired by the prospect of having more extraordinary happenings in Northgate.
Well, Homegrown in Northgate is back – and you don't have to wait until next spring.
Visit College Station's second Homegrown at Northgate event is from 11 a.m.-3 p.m. on Sunday, Oct. 17. The many vendors, food trucks, and local musicians are back, but this time we're also celebrating the return of fall with pumpkins being sold by Habitat for Humanity.
Select Northgate establishments will also be open if you want to grab a drink or something to eat. If you needed more incentive, the first 100 attendees receive a free Homegrown at Northgate tote bag and sticker. Free parking is available in the Northgate surface lot and parking garage.
Our Facebook event page will feature updates and vendor spotlights.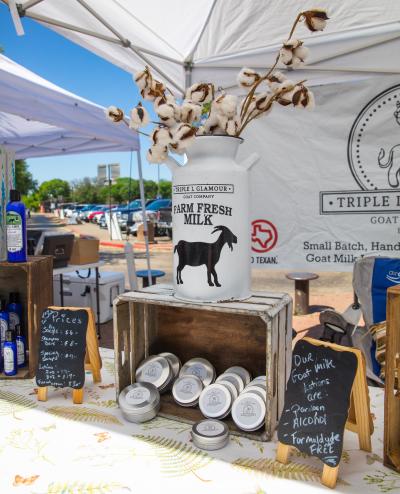 PARTICIPATING VENDORS:
1. Sweet Pops
2. The Nursery
3. Kona Ice
4. Heal-Thy-Vibe
5. JDs WoodWorks
6. Tiptop Woodshop
7. Cast Iron Soaps
8. Busha's Custom Cookies
9. Game Day Coffee Co.
10. Aggieland Outfitters
11. The BEE Community
12. Moonlux Lab
13. Hollydew Farm
14. Carly's Confections
15. Rainy Day Candle Co.
16. Grow 'Em Plant Co.
17. Hellbent Scents
18. Share Bear Bakery
19. Klae Design Co.
20. The Modern Alchemy Lab
21. Visual Art Society
22. Old Blue Ridge
23. Shan's Hands Creations
24. Giddy Up Glamour
25. Sweet Home Sweets
26. Beaded Blondes
27. Naturally Yummally
28. Wixon Valley Goods
29. Nostalgia Novelties
30. My Mom's Nuts
31. Bear Necessity Co.
32. Three Sweet Pops
33. Two Dudes and a Wick
34. Freesol Farm
35. The Fruitful Vines
36. The Pecanery
37. Sheldon Farms
38. Steel Wool
39. The South Boutique
40. Texas Legacy Apparel
41. AK Rustic Candle Co.
42. Itz A Wrap Fresh Flower Bouquets
43. Frios Gourmet Pops
44. Southern Chic Revivals
45. Link and Hammer
46. Lemonade House
47. The Vault Design Studio
48. Brawley's Foods
49. Home Sweet Henna
50. Heart and Soul
51. Fly Girl Designs
52. Beauty For Ashes
53. Pam J's Soaps
54. Pi-Tosa Studio & More
55. Treasures from the Earth
56. Jamm's Wonderplans
57. The Puppy Pretzel Company
58. Moonstruck Pastry and Coffee Co.
59. Corona's Mexican Restaurant
60. CJ Designs
61. Aggieland Coffee
(List updated Oct. 13)
While you're enjoying Homegrown at Northgate, keep in mind that the holidays are around the corner, and our Christmas in College Station campaign begins on Nov. 12. We'll have much more information on our social media and website as the date gets closer!
By Kendra Davis, Visit College Station Event Coordinator